San Francisco company Mantle Inc.is launching a complete solution for the manufacture of 3D printed metal mold tooling, and it looks very interesting indeed. It's based on their existing industrial 3D printer technology, and after a period of testing the complete system with local injection molding companies, they say it's ready for the main stage.
3D printed tooling for plastic injection molding has really taken off this last year, with multiple options available for designers wishing to manufacture larger production runs of high quality molded parts.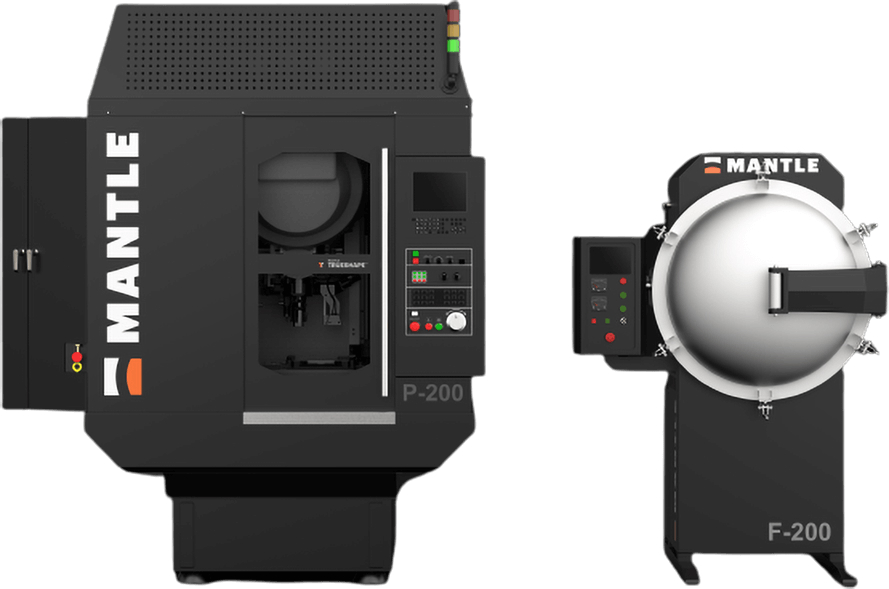 Some options focus on printed plastic molds, which are great for prototyping, and even for production runs going into hundreds of parts. But to get the full economic benefits from injection molding, you really need a mold that will last longer.
The longer the mold lasts, the more parts you can mold. The more parts you mold, the lower the cost per part drops.
Mantle knows this, and to address this need they are about to release a complete metal mold making solution which includes their 3D printer, CNC milling system and a sintering oven, which combines into something called the TrueShape process.
TrueShape Process
The Mantle Inc. P-200 industrial 3D printer has a build volume of 200mm x 200mm x 150mm. It is combined with the CNC milling machines in a single unit.
The printer deposits the metal in flowable paste form, which is made of metal powder and a binder. After a few layers are added, they are heated, and then machined, the rationale being that it's easier to mill a dry paste than it is a solid lump of metal. This repeats until the part is complete, and final milling and contouring operations are performed for the final shape.
When the part has been finished with the CNC phase, it is taken out, placed into the sintering oven, where the metal powders are sintered together and densify, melting/burning off the binder in the process.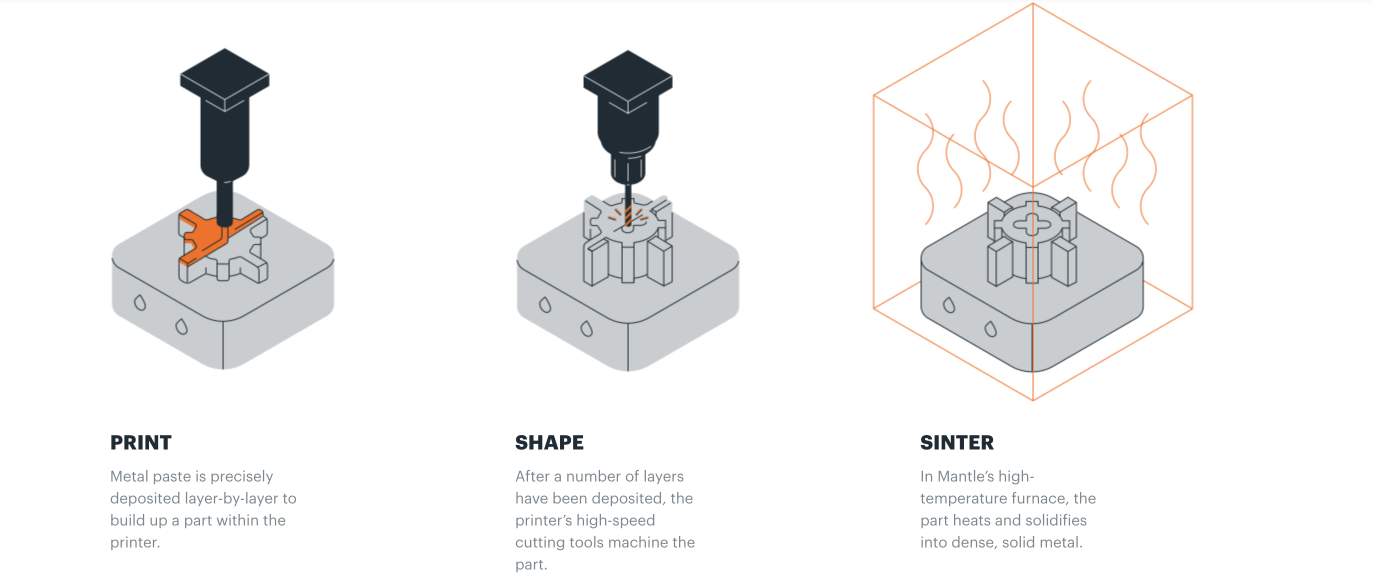 This print, shape and sinter workflow is the TrueShape process, and it produces parts with an accuracy of +/- 0.001″ per inch.
Software
The system comes with the software necessary to begin printing and cutting without any need for toolpath programming. According to the company site, all you need to do is upload your part file, prepare the printer, and hit the print button.
The software will determine both the additive parts of the job, and the subtractive milling operations automatically, and will generate the file without you needing to worry about the toolpath, because it's all taken care of by the software.
Once printing begins, the software monitors the process in real time with over 20 sensors to improve the system's overall efficiency, quality, performance, and reliability.
Tool Steel
Mantle has two different tool steels available at the moment, and these are called H13 and P2X, which both are familiar steels for these applications.
The H13 tool steel is ideal for production-grade tools that require high hardness, strength, and molding temperatures, while the P2X is equivalent to normal P20 steel but has improved corrosion and abrasion resistance.
According to Mantle, their rapid tooling system has been shown to reduce lead time for their first prototypes by 80% using their solution. In reality, this means you can be going from CAD to molding in just a matter of days.
Mantle will be shipping their complete 3D printed mold making solution out to customers in early 2023.
You can read more about their system over at this link.