Nexa3D Launches XiP Superfast Desktop SLA Printer
Last week California-based printer company Nexa3D launched their XiP printer, which is generating quite a bit of interest in various circles. Let's take this launch as an opportunity to look at the company and their high speed resin printers in some more detail.
Nexa3D
Nexa3D specializes in fast SLA printers, and was co founded by Avi Reichental who also serves as Chairman & CEO of Nexa3D. If that name sounds familiar to you, it should, because he previously served as president and CEO of 3D Systems.
Nexa3D has until now offered a range of industrial resin printers that are capable of printing polymers faster than anything on the market. The company achieves this thanks largely to two proprietary technologies, namely Lubricant Sublayer Photo-curing (LSPc) for photoplastics and Quantum Laser Sintering (QLS) for thermoplastics.
For the sake of this article and the recently launched XiP resin printer, we will focus on the first technology here, the LSPc.
XiP
The XiP uses the Lubricant Sublayer Photo-curing technology found in its bigger industrial siblings.
The LSPc Process starts with a uniform light source which is a proprietary UV light array. This ensures Light uniformity which is needed for the LCPc High Contrast Mask. The LSPc HC Mask is responsible for projecting the 3D slices to the vat where the photopolymerization process is happening layer by layer.
This differs from DLP where edge to edge performance is compromised due to optical distortions. The mask allows uniform, distortion free image to all areas of the build plate ensuring part to part uniformity and accuracy. The last step in the process is the LSPc membrane. This proprietary membrane is self lubricated. The self lubrication creates a no-stick zone between the printed part and the vat enabling the market leading print speeds.
The speeds, according to Nexa3D, make production with their systems economically (and technically) comparable to injection molding for certain batch sizes.
This all adds up to the ability to produce high quality parts with an XY resolution of 30 microns at print speeds of 18cm per hour with the aid of a 4K LCD system.
The XiP has a build volume of 190 mm x 120 mm, (XY) and 210 mm in the z axis.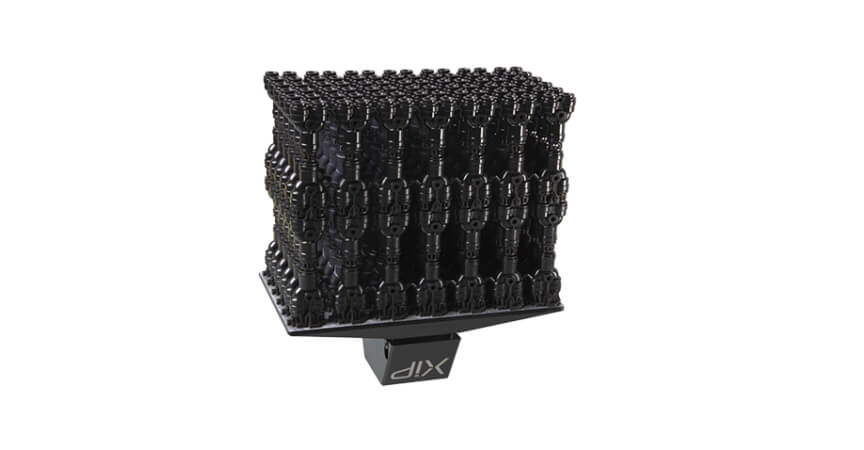 Materials
Nexa3D has a range of photopolymer materials for their various printers, and the XiP is capable of printing a decent selection of the wider materials portfolio also.
Those materials include xPRO410, xPEEK147, xCE-Black, xABS3843, KeyModel Ultra and they offer a range of strengths, densities, HDTs and other parameters to suit a variety of applications such as dental, jewelry, aerospace and automotive. The resins cure to form highly isotropic parts making them much more suitable for carrying mechanical loads along different axes than FDM materials.
You can read more about the materials and access their technical datasheets at this link.
And for more information on the XiP, you can head over to the product page right here.