ScanTech releases high volumetric accuracy 3D scanners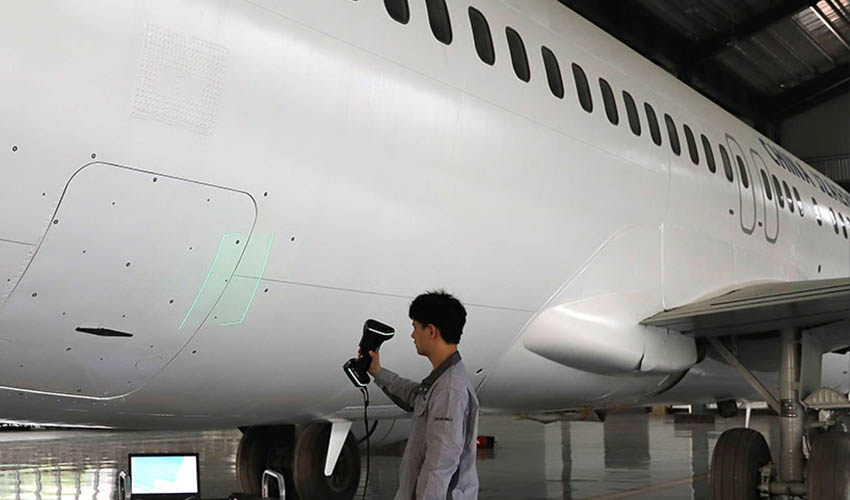 3D scanning is the process of analysing a real-world object to collect data on its shape and possibly appearance. In the world of additive manufacturing, this data can be used to create 3D models in CAD software. 3D scanning not only enhances the design process, it also speeds up and reduces errors in data collection, enabling companies to save time and money. The ongoing technological advancements in terms of portability, scanning range, and image quality have opened new application areas for this equipment in recent years, as demonstrated by various studies. In fact, according to Allied Market Research, the 3D scanning market will register a CAGR (compound annual growth rate) of 25.7% from 2018 to 2025.
One company that is contributing to these advancements is ScanTech – specialised in developing and manufacturing intelligent inspection equipment – today, the company offers 7 3D scanners series. It was a busy start of the year for the company: from May to June 2020, ScanTech successively released several products such as the iReal 2E color 3D scanner, the MSCAN-L15 photogrammetry system, and the AutoScan-T22 and TrackScan-P42 scanning systems. Additionally, the company released its metrology-grade KSCAN-Magic 3D scanner. This device works with infrared and blue laser technology and offers five standard working modes. It delivers 1,350,000 measurements/s, 1440 mm × 860 mm scanning area and captures details with a resolution of 0.010 mm. ScanTech explains that this device is particularly suitable for the aerospace industry as it offers 0.03 mm/m volume accuracy.
Not all 3D scanners are based on the same technology. Industrial grade 3D scanners typically rely on laser 3D scanning technology, which means that the scanner projects a laser point or line onto an object and then captures its reflection with sensors. The biggest benefits of laser scanning are resolution and accuracy. For example, ScanTech's PRINCE and HSCAN scanner series rely on red and blue lasers to obtain precise 3D data for large or small objects. On the other hand, structured light technologies use a light pattern instead of laser to collect data. The company's iReal series uses LED light and infrared light to capture realistic details.
As mentioned, in the case of 3D printing applications, 3D scanning enables to streamline the reconstruction process, transforming real-life objects into high-precision 3D models. This process can sometimes be preferred to employing a professional to 3D model an object. It should be mentioned that other applications include reverse engineering, quality control, simulation, visualisation and product development. In the medical sector for example, 3D scanning technologies allow medical devices to be tailor-made for each patient, from prosthetics to dental implants.
Latest release: AXE-B17 3D scanner
On the 6th of July, ScanTech organised a global launch event to reveal the newest addition to its range of scanners, the AXE-B17. Based on laser scanning technology, it is tailored for measuring medium to large-sized objects, achieving 2,000,000 measurements/s and an accuracy of 0.02 mm. In order to get rid of limitations like size, shape, material and complexity of the object, you can freely choose working modes for efficient high-speed scanning, and accurate deep hole scanning. Additionally, this handheld 3D scanner has been designed to enable a large scanning range of 860 mm × 600 mm. AXE-B17 includes an integrated scan and inspection software to accelerate product R&D, design and production.
ScanTech's first generation of handheld 3D scanners launched in 2014. Since, the company has released a complete range of solutions to streamline workflows. Today, it counts more than 7 series of 3D scanners, manufactured for different needs in the industry. You can find more information about KSCAN-Magic, AXE-B17 and other 3D scanners on ScanTech's official website.
Have you ever used a ScanTech 3D scanner? Let us know in a comment below or on our Facebook and Twitter pages. Don't forget to sign up for our free weekly Newsletter, with all the latest news in 3D printing delivered straight to your inbox!