Modix Big-60 V3: Review the Specs
The Modix Big-60 V3 is a large volume professional 3D printer, offering a 600 x 600 x 660 mm build volume. Right of the bat, this is the most noteworthy upgrade, enhancing the print volume by 10% compared to its predecessors.
But what else does the machine have in store? Read on as we review its features.
Improved Design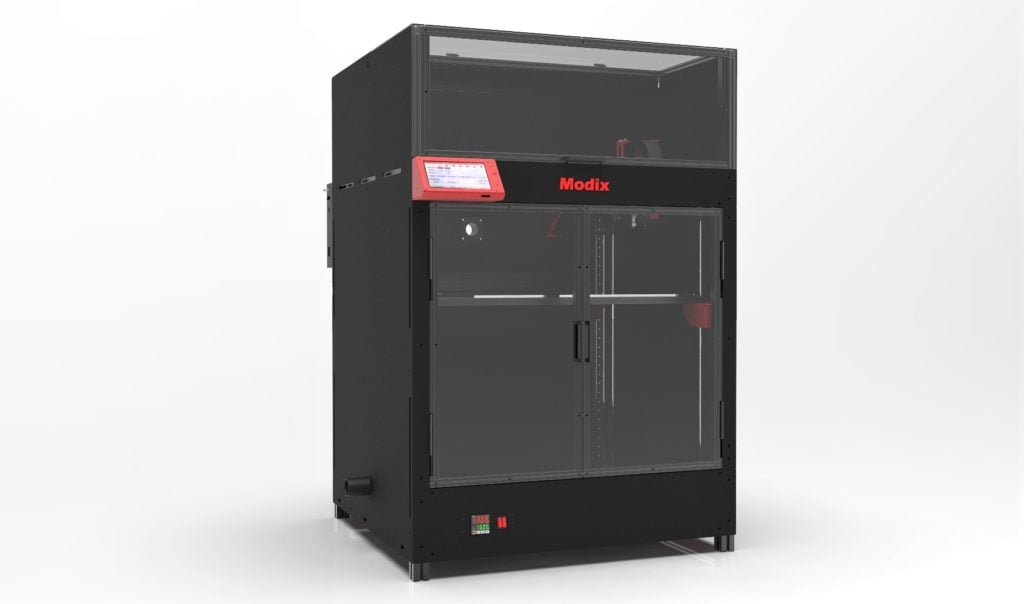 The Modix Big-60 V3 comes in its typical black-with-red-trimmings design. It has a sturdy chassis and a frame made of 40 x 40 mm T-slot aluminum profiles combined with powder-coated laser-cut aluminum brackets and joints.
It also has Hiwin MGW motion rails for axes, which provide a wider rail and carriage than the previously used MGN rails, and should give higher accuracy and smoother operation.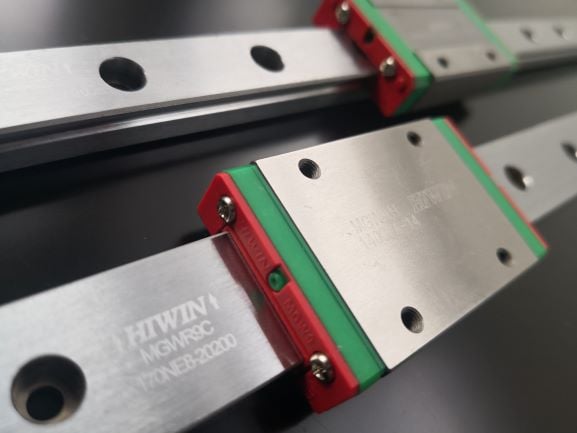 The Big-60 does also features four ball-screws on the Z-axis, instead of the previously used three. Each has a precision lead screw, allowing them to move the print bed at a 0.5-micron layer height.
According to the manufacturer, cable management also got an improvement. For example, the print head wiring and drag chain now rest on the Y-axis, and the Big-60 V3 is equipped with professional signal cables by the industry-leading, German-based IGUS company.
Lastly, the optional enclosure is composed of 3 mm aluminum composite panels (ACP) and polycarbonate sheets for the doors. This should provide better thermal and noise insulation compared to the acrylic sheets the V2 used. The aluminum casing can even be drilled into for any custom fixture or add-on, and the revamped top lid allows for easier access to the print bed.
New Extruder
The Modix Big-60 V3 features an E3D Aero direct extruder and a V6 Volcano hot end.
Modix redesigned the print head to be compatible with the E3D Aero, as it features a much larger but shorter heat sink as well as a 40 mm cooling fan. This should reduce potential clogs.
By default, the Modix Big-60 V3 comes with a single extrusion setup. The printer can also be equipped with an improved dual print head for multi-material printing.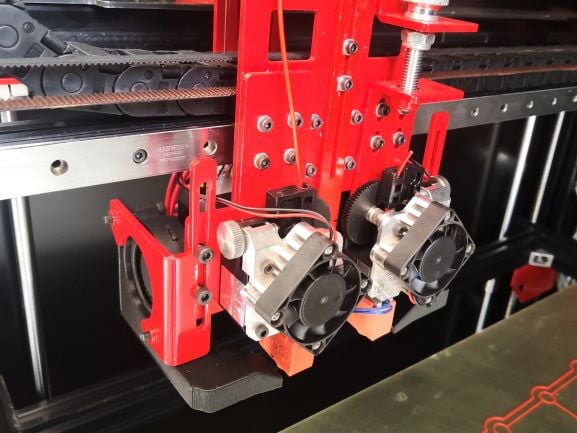 The V6 Volcano hot end does come with interchangeable nozzles, and Modix includes instructions to switch from the default 1.75 mm filament to the 3 mm. According to the manufacturer, you can also change the thermistor to reach temperatures up to 400 °C instead of the default 285 °C. This opens up the possibilities of printing with industrial-grade materials that require a high melting point.
With this functioning combo of the E3D Volcano hot end and Titan Aero extruder, the Modix Big-60 V3 can process PLA, PETG, PVA, ABS, ASA, PC, nylon, TPU, carbon composite and other exotic materials. The company says it's fully compatible with nearly any type of third-party filament, in part because this printer comes with a wide range of different nozzle diameter sizes, including 0.4, 0.6, 0.8, 1.0, and 1.2 mm, as well as the thinner E3D V6 collection of 0.35, 0.3, 0.25, and 0.15 mm for extra fine detail.
Dual Heat Zones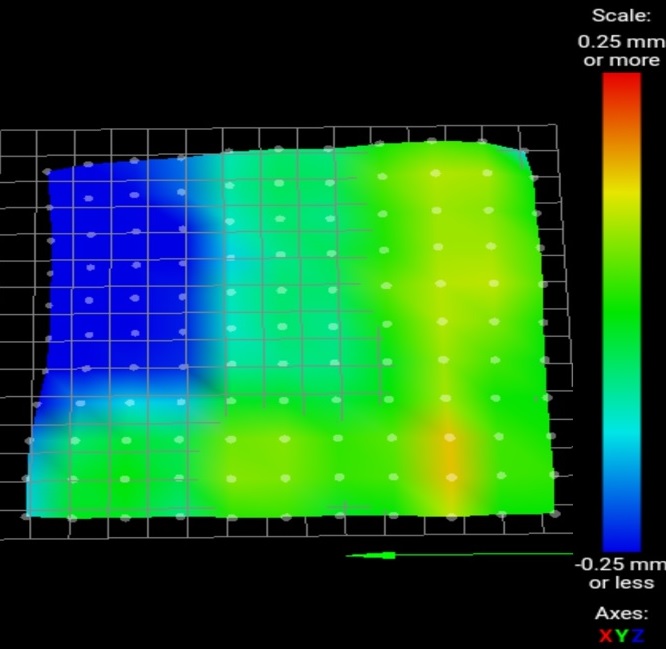 Modix uses a 6.35 mm thick Mic6 cast aluminum plate from the US-based manufacturer Alcoa, which is capable of heating up to 120°C.
Just like the V2, the printer offers fully automatic bed leveling that utilizes 100 probing points, a major upgrade over the nine-point probing system featured in the first iteration. What's new, though, is the printer's dual heating zones. For smaller print jobs, the inner zone measures 200 x 200 mm and should result in better power consumption.
And, with a PEI print surface, adhesion and removal of objects should pose no problems to the user.
Touchscreen Interface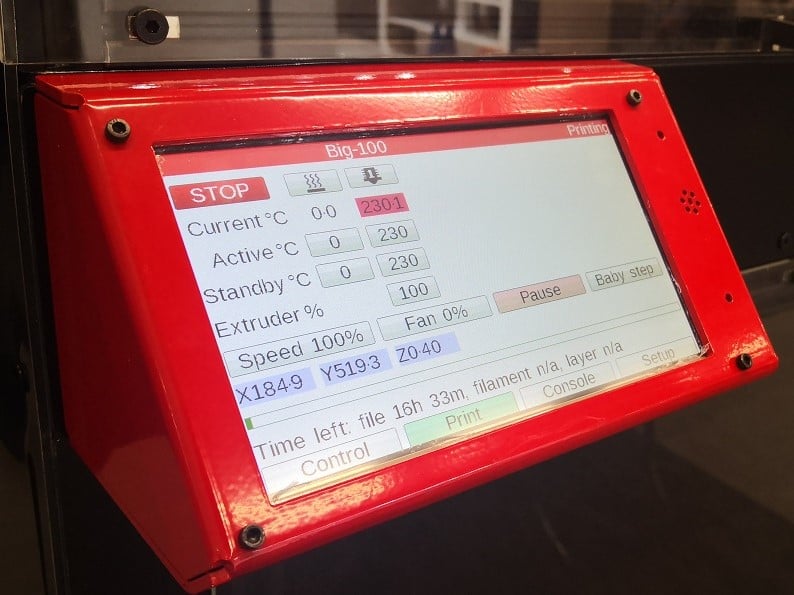 According to Modix, V3 is shipped with Duet3D, a 32-bit electronics board to offer features like resume print function in case of a power outage, as well as a pause print function in case of a thermal runaway.
The Modix Big-60 V3 printer comes with an upgraded 7-inch touchscreen for easy operation and to show satus data in real-time. With the WiFi module, you can operate it remotely with a PC or even a mobile phone.
(Relatively) Easy Assembly
The Modix Big-60 V3 comes as a DIY kit and it's said to be redesigned from the ground up for a faster and easier assembly. This includes symmetrical parts, smaller metal brackets, and a more intuitive assembly of the print head.
Additionally, Modix revamped and simplified its user manual, including over 80 videos guiding you through the assembly process step by step.
Further Features
Additional features include:
Draft mode: Print with 100 mm/s instead of the standard 60 mm/s
Open source RepRap firmware
Filament runout sensor
Trinamic TMC2660 drivers: Quieter and more durable drivers
Optional onboard camera