2020 Qidi Tech X-one2: Review the Specs
Let's review the Qidi Tech X-One2's specs.
Ready out of the Box
The Qidi Tech X-One2 is plug and play. You can have the printer up and running within the hour after unboxing it.
The machine comes pre-assembled; all you have to do is to feed the filament and level the printing bed. Unfortunately, the Qidi Tech X-One2 does not feature auto-bed leveling, so you have to undergo the procedure of manually leveling the bed, which is explained, though, in the detailed step-by-step instruction shipped with the printer.
Suitable for Beginners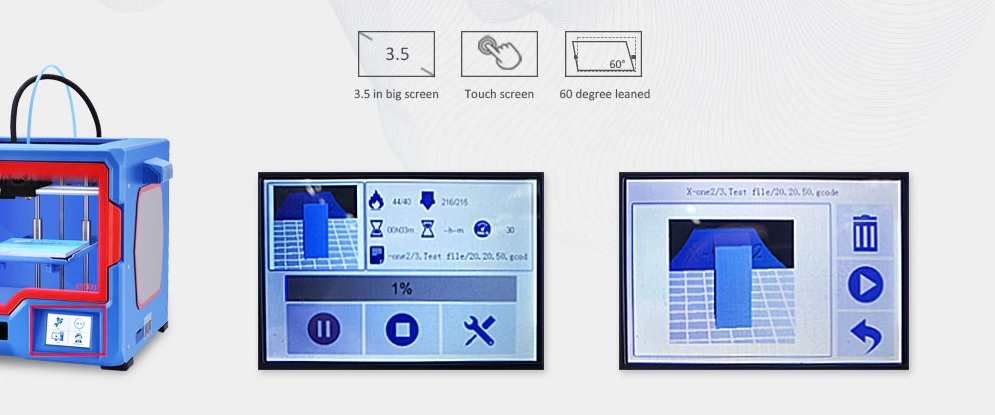 As with its previous models, Qidi Tech seeks to provide a comprehensive 3D printing ecosystem.
The X-One2 has a 3.5-inch touchscreen interface, which has easily recognizable icons and is very responsive and easy to operate. The interface shows a number of parameters, such as the print progress and the print bed temperature.
The included SD card carries test prints to get you started. Furthermore, the proprietary slicer software Qidi Print supports a variety of powerful functions and ease of use. Plus, the Qidi Tech X-One2 is open-source, meaning you can use any slicer program you like.
Enclosed Build
Not only is an enclosed build chamber mandatory for printing with the likes of ABS, as it ensures a constant temperature, but it also protects the surroundings from potentially harmful fumes.
Although the X-One2 is not fully enclosed, as it misses a top cover, the semi encasement should improve the probability of successful printing, especially with temperature-sensitive materials.
Another useful side-effect is the reduced risk of accidentally interfering with the print as the encasement also keeps curious fingers out, as well as protecting the moving parts from dust and other particles.
Heated Bed
The Qidi Tech X-One2 features a heated print bed made of aluminum alloy with a PEI covered surface. Featuring a heated bed opens the X-One2's possibilities to print temperature-sensitive materials such as ABS or PETG.
Like all the other Qidi Tech 3D printers, the X-One 2 has an open material system, allowing the user to experiment with many different brands and materials.