2020 Intamsys Funmat HT Enhanced Review
For the benchmarking element of our review, we use the following guidelines:
Unbox the printer: We unbox the printer and assemble it according to the manufacturer's instructions. Deficiencies and errors are noted and build around according to the consensus online for the printer.
Filament: We use white eSun PLA+ filament. Temperature settings are 215 °C for the nozzle and 60 °C for the bed.
Printing: We print two test models — Benchy and the Kickstarter x Autodesk FDM 3D Printer Assessment — using the manufacturer-provided/recommended slicer and settings. If the printer ships without a dedicated slicer and profile, we generate a generic Cura profile using the essential information of the printer.
After the first print, we inspect the object for easily fixable problems (i.e., a loose belt or a poorly leveled print bed) and then print again. If the printer can't provide a decent result after three attempts, we stop. Printers that fail to produce a test object receive zero points for the respective test object.
1. Benchy
The Benchy 3D printer torture test is one of the world's most popular prints. It helps to measure the dimensional accuracy capabilities of your printer and helps highlight other visible print nastiness.
We measure our best Benchy print using digital calipers, scoring 15 criteria against their target value. A total of 15 points are available.
Overall length: 60 mm
Overall width: 31 mm
Bridge Roof length: 23 mm
Chimney roundness inner diameter: 3 mm
Chimney roundness outer diameter: 7 mm
Vertical overall-height: 48 mm
Box depth: 9 mm
Box inner length: 7 mm
Box outer length: 10.81
Box outer width: 12 mm
Box inner width: 9 mm
Hawsepipe inner diameter left: 4 mm
Hawsepipe inner diameter right: 4 mm
Bridge front window width: 10.5 mm
Rear window inner diameter: 9 mm
To accommodate the difficulty and inaccuracies when measuring small features, we have implemented a sliding scale of tolerance in our scoring. The smaller the feature, the greater our allowance for deviation:
60 mm to 23 mm: 1 percent tolerance allowed
23 mm to 7 mm: 5 percent tolerance allowed
7 mm to 0 mm: 10 percent tolerance allowed
Finally, we do a visual inspection and note any flaws and problems we encounter.
2. Kickstarter x Autodesk FDM 3D Printer Assessment
The Kickstarter x Autodesk print exposes an FDM printer's precision via six distinct tests in one object.
By pushing a printer's hardware and software the system to the point of failure, the print reliably visible imperfections that can be used to assess the performance of the slicer, the extruder, and the motion system together.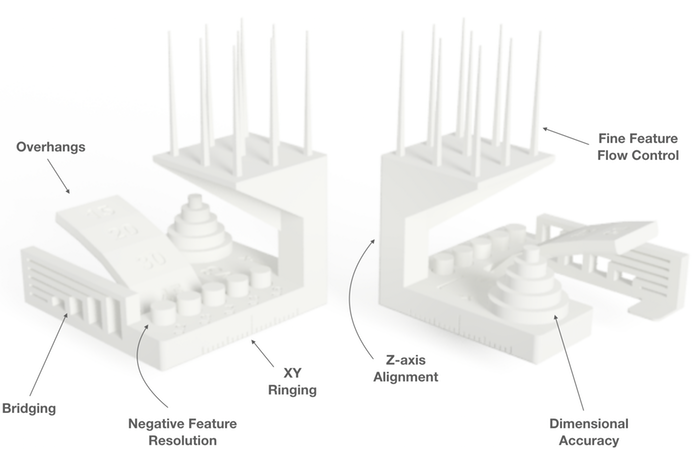 Here's what's getting measured.
Dimensional Accuracy
Fine Flow Control
Fine Negative Features
Overhangs
Bridging
XY Resonance
Z-axis alignment
The tolerances and measurements are very detailed. You can find the exact measuring procedure on Github. The highest possible score is 30, indicating a very well-calibrated system.
It's worth noting that these benchmarking tests are not a definitive measure of a printer's worth. More an indication of a printer's state out of the box with no-tinkering, it's only after a full evaluation and in-depth review that we fully judge a 3D printer.