2019 Qidi Tech Shadow 5.5 S: Review the Specs
Besides the fact that the Qidi Tech Shadow 5.5 S looks like Iron Man had a child, there are also some interesting features packed into its sleek looking design. To find out more, read on and see what the Qidi Tech Shadow 5.5 S brings to the table.
Resolution
When it comes to resin printers, the printer's LCD screen resolution is one of the most crucial factors, as it determines the print quality outcome. The Qidi Tech Shadow 5.5 S offers a 2K resolution LCD (2560 x 1440 pixels), putting the printer in the same league as its budget competitors Elegoo Mars or the Phrozen Shuffle S.
With an XY-axis positioning accuracy of 0.047 mm and Z-axis positioning accuracy of 0.001 mm, combined with the Edge anti-aliasing, the Qidi Tech Shadow 5.5 S should be capable of highly detailed prints.
Concerning the print area size, the Qidi Tech Shadow 5.5 S features a maximum of 115 x 65 x 150 mm, which is also pretty standard on desktop LCD-based resin printers.
Sturdy Design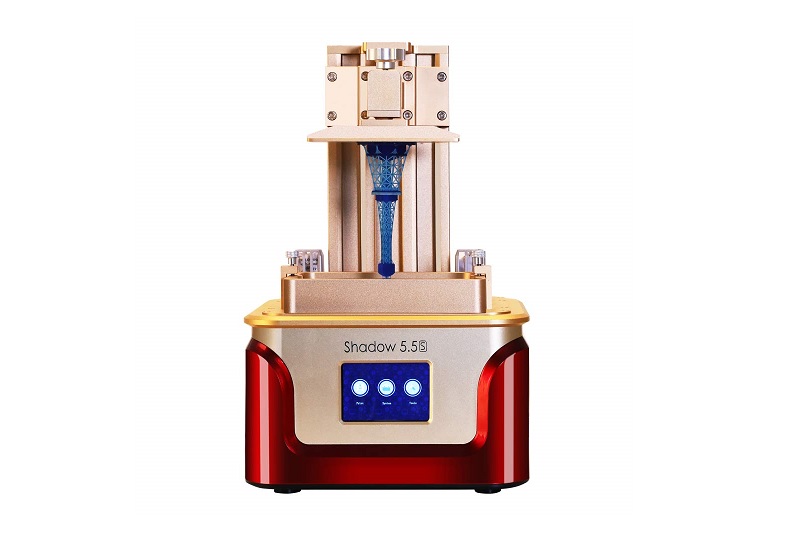 The print quality of LCD based printers generally is very high, due to the technology itself and partially due to the fact that there are just less moving parts compared to an FDM style printer. However, if any part is prone to wobble during operation, it's the Z-axis, especially at the limit of the build volume.
To minimize any potential wobbling, the Qidi Tech Shadow 5.5 S is equipped with a dual Z-axis linear rail design. This should eliminate wave patterns, resulting in a smoother finish and overall better print results.
Besides the enhanced Z-axis stability, the Qidi Tech Shadow 5.5 S also seems to have a robust and well-balanced body. With an approximate weight of around 7.5 kg, you can be sure the printer stays put during operation.
Air Filtration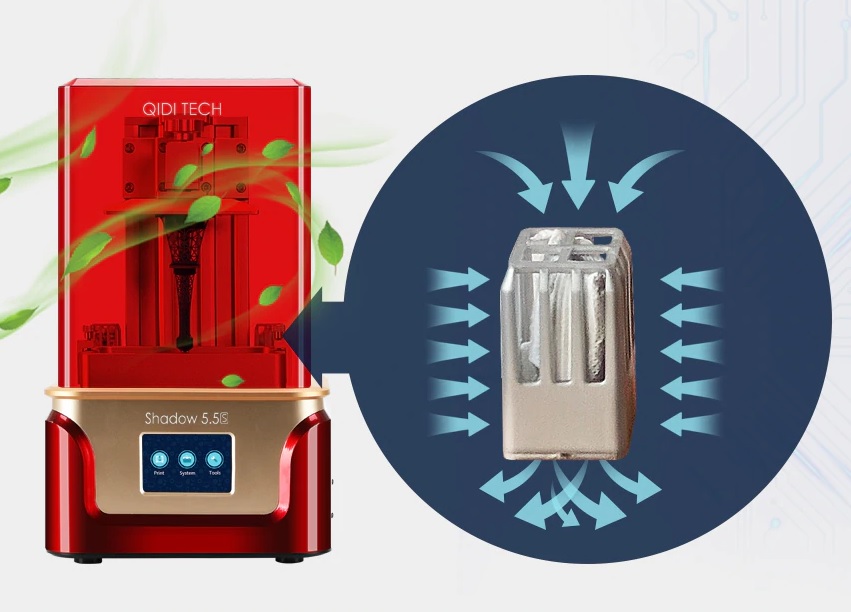 When handling resin, it is advised to avoid skin contact. The same goes for inhaling the fumes.
It seems like Qidi Tech took that into account and equipped the Shadow 5.5 S with, not just one, but two air purification filters; located within the printing chamber. This dual-fan carbon filtration system should reduce odors as well as screen out ultrafine particles, making it eligible to be used in workplaces or other enclosed spaces. Furthermore, the carbon filters seem to be interchangeable, to guarantee a long-time functionality.
On the same note, Qidi has developed its proprietary resin with low odor to further minimize the – SLA inherit – smell.
Support
Qidi Tech is renowned for its customer service's reputation. Not only does the company have a very dedicated post-sales team, helping its customers via phone or email should any problem occur – something seldom found in Chinese budget 3D printer manufacturers – but also on the provided USB stick, there are already instructional videos for any pre-flight settings as well as troubleshooting solutions, such as changing the LCD screen.
Even though this machine is plug & play, this should allow technically inexperienced users to overcome minor and major difficulties. Especially as the user community is not (yet) as big as other companies, it's nice to know there is a functioning customer service to fall back onto.
Further Features
Additional notable features include:
ChiTu Box Slicer
3.5 in touchscreen with intuitive UI