As we've told you before, the startup straight out of MIT, Inkbit, is working towards overcoming traditional 3D printing constraints by giving its machines 'eyes' and a 'brain'. Recently, the company managed to close a $12M equity financing round. The industrial 3D printer developed by Inkbit is a multi-material machine capable of printing extremely flexible materials with great accuracy. It uses machine learning and artificial intelligence to address challenges in additive manufacturing, especially when using rubber-like materials such as silicone, or high-temperature materials such as epoxy. The equity financing round was led by Stratasys and DSM Venturing, the venture capital arm of Royal DSM, with additional participation from Ocado, 3M and Saint-Gobain.
Currently, the system scans each layer that is being printed and corrects errors in real time, while at the same time it uses this information to predict the warping behavior of materials. The company revealed that the proceeds from the equity round would be used to industrialize its additive manufacturing system to fit the requirements of multi-material and volume manufacturing, expand the set of materials for medical, life sciences and robotics applications and install the first units for customers. Davide Marini, the CEO and Co-Founder of Inkbit explains: "The composition of this syndicate was chosen to maximize the speed of development and commercialization of our platform. […] Our value proposition to customers is simple: we are adding a layer of machine vision and machine learning to material jetting, increasing its accuracy, reliability and enabling its use with production-grade materials."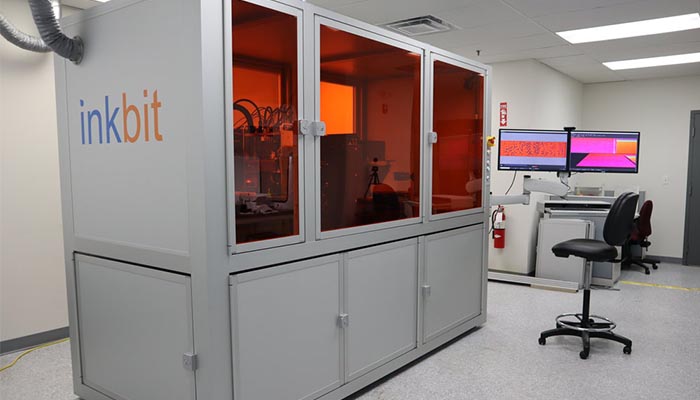 Improving Material Jetting 3D Printing
2D material jetting is currently used across a range of industrial processes, such as ceramic and textile manufacturing. The main advantage of Material Jetting technology is its ability to print multi-material and multi-colour parts. Thanks to its multiple print heads, each material can be stored in a separate head, allowing different materials and colours to be processed. The composite material obtained is called Digital Material and is suitable for creating detailed prototypes that are close to the final model. While this technology is well proven in prototyping applications, limited material choice has restricted its use in production.

The contactless Material Jetting process developed by Inkbit eliminates the need for planarization (chemical-mechanical polishing) and enables printing of multi-material parts with production-grade materials. Inkbit has begun working with customers, such as Johnson & Johnson, through an early access program to develop an initial set of applications. The company plans to release the first systems in 2021 to select customers. Inkbit machines will provide customers with volume production capabilities, higher accuracy and automated quality assurance for every printed part. You can find more information HERE.
What do you think of this new funding for Inkbit ? Let us know what you think in a comment below or on our Facebook and Twitter pages! Don't forget to sign up for our free weekly Newsletter, with all the latest news in 3D printing delivered straight to your inbox!

Post Views:
3
---