2019 Peopoly Moai 130 Review: Best Value Resin 3D Printer
At its heart, the Peopoly Moai 130 is pretty much the same as the original Peopoly Moai 130. It's a tall black slab of acrylic, with a laser and galvanometer at its heart.
Typical of what we could consider 'traditional' stereolithography apparatus (SLA) 3D printing, the beam from the laser is directed into a vat of resin, tracing layers of a model line by line, much like an FDM printer extrudes lines of molten plastic. In the past, such technology was prohibitively expensive, and only with the likes of Formlabs and its successful Kickstarter campaign for the Form 1 desktop printer did it enter more mainstream channels.
In the Moai, Peopoly successfully brought it to a near-consumer price point, offering a highly capable and hackable machine that has lapped up its fair share of fans.
The Moai 130 is as best we can see, the same. Same 130 x 130 x 180 mm print volume, the same 150 mW laser with 70-micron spot size; same efficiently simple construction. It is familiar and works well.
This also means the same issues we pointed out with that former machine. A slightly claustrophobic work area inside the chamber, SD card reader issues (that plague the machine years after release, it would seem) and little in the way of robust post-processing equipment or air filtration – extras we felt would take it up a notch.
In the Moai 130, this is addressed with some 18-months of hardware improvements rolling into the box that ships to your door. Bolt-on functionality-enhancing extras that'd make a transformer blush, these hardware upgrades result in a machine that is decidedly more capable and easier to use.
At approximately $1,795 assembled or $1,395 as a kit, the Moai 130 costs roughly $100 more than its predecessor. All of the add-ons if purchased separately would come out at close to $300.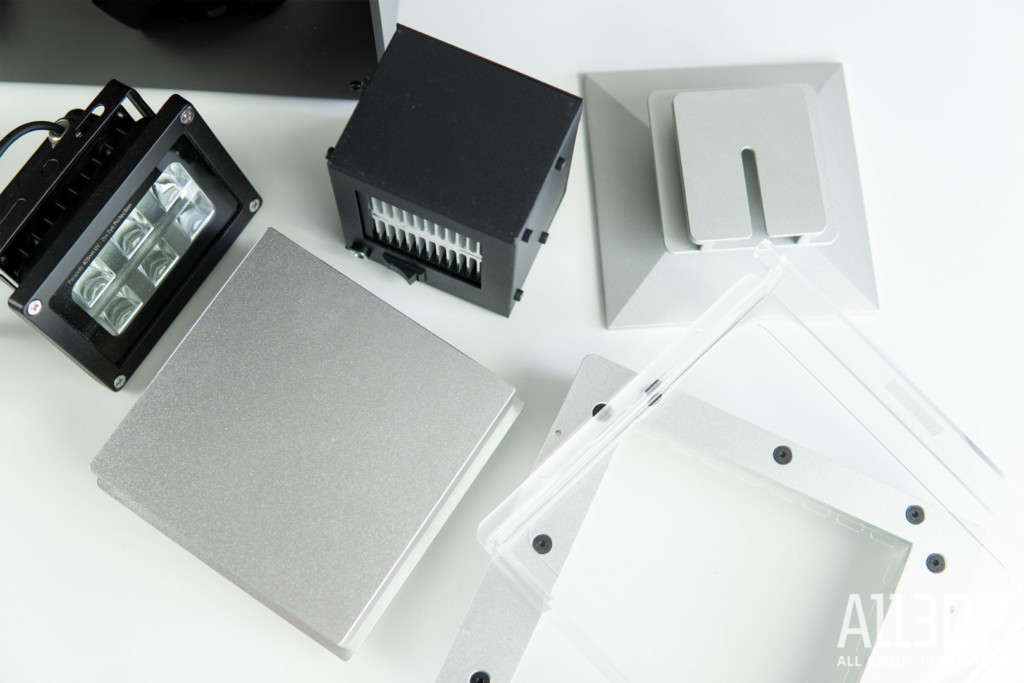 What has changed, however, is some 18-months of hardware add-ons and alternatives to stock equipment rolling into the box that ships to your door. Bolt-on functionality-enhancing extras that'd make a transformer blush, these hardware upgrades go a fair way to enhancing the printer.
For starters, there is the easy-level print plate. Replacing the solid aluminum block that shipped with the original, here you have four M4 nuts that can be loosened. As the print plate lowers to the vat, it settles into its natural level which you then tighten and 'lock-in.'
It's a far cry from the psychotic leveling of the original, which required you to remove the side of the printer and dive in with an M4 bolt-driver. That inconvenience is now (almost) gone, making for a quality of life upgrade that makes frequent printing with the Moai in line with the majority of cheaper LCD-based resin printers today.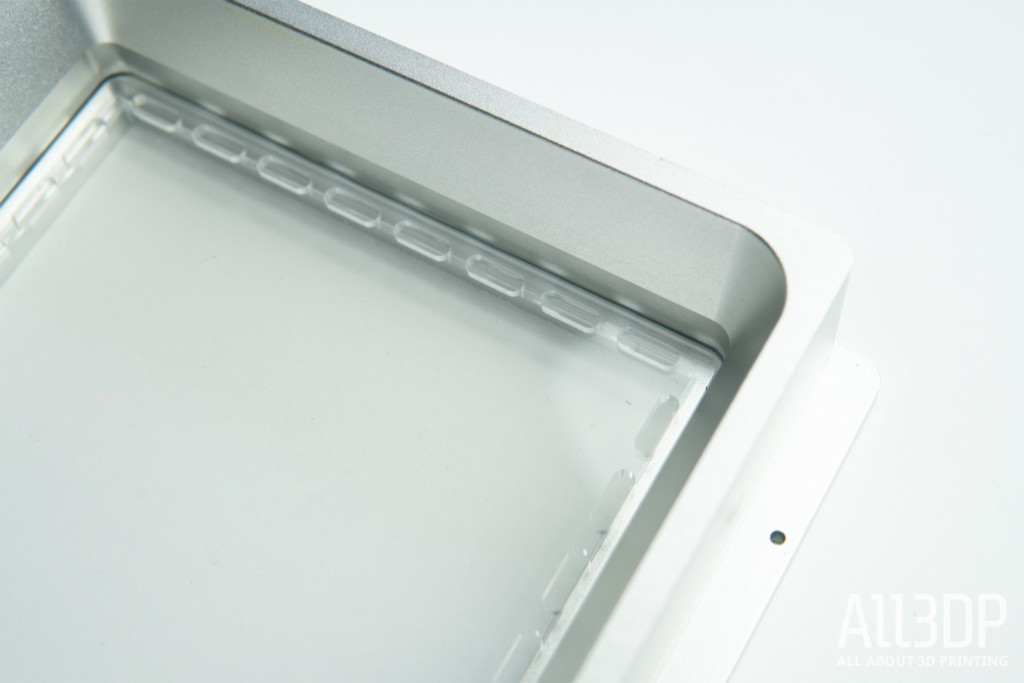 Further reliability enhancements come in the inclusion of an FEP resin vat. A durable film sheet that provides a flexible interface layer, this upgrade needs less attention from you over many prints, as it degrades slower than the PDMS vat of the original machine.
Such longevity is a big win for the user, since the less contact you have with cleaning out and swapping about resins, the better. However, this upgrade is much less forgiving than the PDMS, with a higher 'stickiness' to objects during printing increasing the likelihood it will tear apart insufficiently supported prints. Hitting the sweet spot of dense and durable enough supports for the FEP vat is a challenge and much longer process than before. This is touched upon in various threads on the Peopoly forum, but not explicitly stated anywhere in the setup guide.
Handily, the Moai 130 ships with a chamber heating unit that is designed to eliminate one variable that can cause print failure — temperature. Or rather, too low of a temperature.
A common cause of print failure in resin printing is the resin being too cold. We won't pretend to understand the science behind it, but it is known that photosensitive resin reacts best in toasty climes.
To provide a stable temperature for resin inside the Moai, Peopoly introduced a heater block — a chunky little number that requires an independent power supply.
In practice, the heater works as expected, but we throw a big question mark over its iffy implementation, which we'll address a little further down this review.
An LED UV lamp is provided with the Moai 130, for post-processing and permanently curing prints. It is a useful addition that gives you a little more flexibility and speed to your post-processing workflow, but on face value, it is merely a Peopoly branded third-party peripheral, seemingly not designed to be affixed to the Moai in any way.