Quantum X, the new cutting-edge system for microfabrication
Microfabrication is an emerging segment of additive manufacturing that will open the door to a number of very promising applications. There are not many companies in this field, however we have observed the last few months that these players are developing new solutions for this growing market and receiving more and more attention for it. Just recently,  the 3D printer manufacturer Nanoscribe unveiled its newest 3D printer, the Quantum X. This system is designed for the microfabrication of prototypes and masters in industrial production processes. In other words, this printer is able to produce tiny objects using the company's patent-pending 2GL (Two-Photon Grayscale Lithography) technology. 
The Quantum X system is a machine that offers high speed, complete design freedom and high precision in order to create very small yet complex structures. As with all 3D printing technologies, the aim is for the user to benefit from shorter design iteration cycles and cost-effective manufacturing. Nanoscribe explains that this system is ideal for refractive microoptics and multi-level diffractive optical elements. In other words, micro lenses, as small as 200 microns. 
A cutting-edge system for microfabrication
Nanoscribe explains that the 2GL technology combines additive microfabrication with ultra-fast voxel size tuning. On their website, you can read: "Quantum X controls the voxel size along one scanning plane using synchronized laser power modulation at high speeds. In this manner, complex shapes are produced and variable feature heights are achievable within one scan field. Discrete and accurate steps as well as essentially continuous topographies can be printed on up to six-inch wafer substrates without the need for additional lithography steps or mask fabrication."
This system is also meant for production. The special wafers that contain different cells (where it holds the resin) allow to fabricate multiple parts in a single run. The entire build area of this 3D printer is 50 x 50 mm. In order to facilitate small series production, the Quantum X includes automatic calibration and real-time monitoring of print jobs, which can be done through a remote control interface. The manufacturer has also thought of adding three different live-view cameras to monitor the printing jobs in real-time. 
Dr. Michael Thiel, co-founder and CSO of Nanoscribe, Dr. Michael Thiel comments,  "Beer's law imposes strong limitations on today's maskless lithography devices. Quantum X features two-photon grayscale lithography, which overcomes these limitations and offers unprecedented design freedom and ease-of-use. Our customers are working at the cutting edge of microfabrication."
What do you think of the Quantum X? Let us know in a comment on our Facebook and Twitter pages! Don't forget to sign up for our free weekly Newsletter, with all the latest news in 3D printing delivered straight to your inbox!

Post Views:
4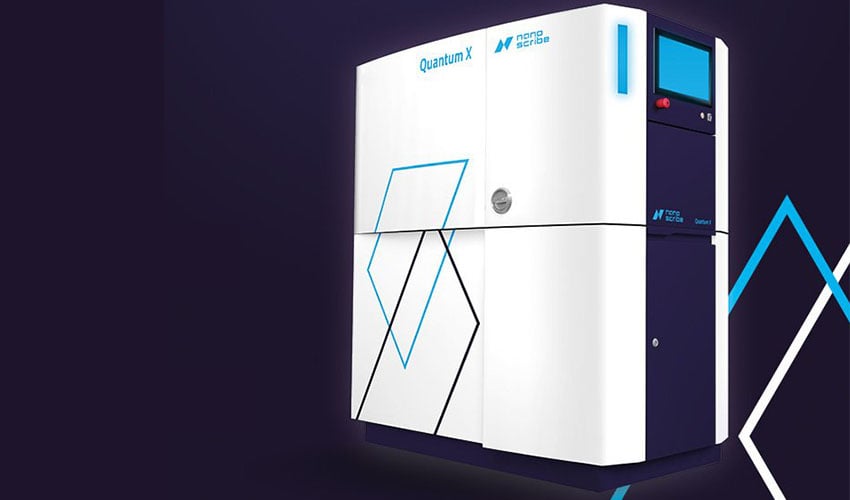 ---